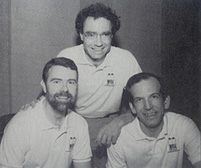 Ed Brouder, Mike Ellis, Paul Belfay


Kevin Flynn
In May 1993, WFEA/WZID promoted former intern Kevin Flynn from part-time to full-time status, splitting his time between the news and promotions departments.
Though no longer an employee, Ken Cail maintained his relationship with WFEA by calling the play-by-play of the fall high school football schedule.
On March 8, 1995, Talknet disappeared from WFEA's airwaves, replaced by additional hours of AM Only from Westwood One.
June 2, 1995 was a happy day for fans of longtime French program host Joe Maltais. He returned to his Sunday morning broadcast after a two-month recovery from open heart surgery. But at the age of 77, Joe cited health considerations in retiring on December 31, 1995.
Monsieur Maltais' Franco American Hour aired on various Manchester stations for 45 years. On February 9, 1996 a reception in his honor was held at Manchester's Centre Franco-Americain. Paul Pare began hosting WFEA's new Sunday morning French show, Bravo!, on January 7, 1996.