As WFEA began the 1960s, it leaned heavily on the Top 40 music that was sweeping America. While providing news and public affairs programming, the thrust was primarily rock and roll.
Under Bill Malo and Frank Pellegrin's WFEA Broadcasting Corp., the station developed a reputation for being something of a revolving door for young disc jockeys. On-air stays were often short. Sometimes individuals left and came back; for example Jack Miller sat out parts of 1962-63 while he served his military obligation.
There were at least three Jim Longs at WFEA (Don Davis and Pete Morrison were two of them).
From 1960-65, programming was under the direction of Jim Camilli, a fast talking DJ who came from upstate New York. He employed whatever slick promotional ideas were sweeping the industry at the moment.
Management wasn't above raiding the competition. In late 1964 WFEA stole WKBR's popular French-language music host, Joe Maltais.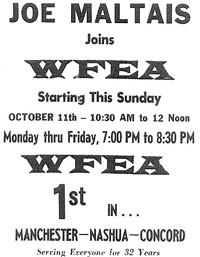 In 1965 Charlie Shoe replaced Jim Camilli as program director, but he was stolen by WKBR program director Eddie B. Baker (another ex-WFEA DJ) in mid 1966.
Many people found themselves in WFEA's driver's seat during the 1960s. It's unclear which of them made the decision to depart with continuous Top 40 music in October 1966. Gene LaVerne was associated with the station for 20 years off and on, starting as a singing cowboy and later spinning pop hits. Suddenly the Top 40 format was interrupted by country and western music every weeknight from 7PM-midnight.